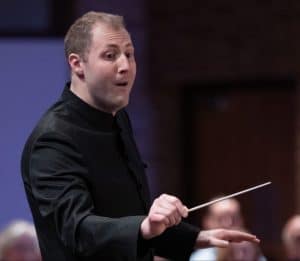 Now serving in his second full season with Oakland Choral Society, American conductor, Andrew Neer, was born in Tucker, Georgia and currently resides in Grosse Pointe,  Michigan with his wife, Mary Lynn. He is quickly becoming known for his dynamic and expressive conducting style. His focus has been to educate and expand appreciation of music. He believes that at the heart of everything, music is the soul of America.
Living in Michigan for most of his life, he attended Central Michigan University (CMU) studying Composition, Trumpet and Music Theatre Performance. Following his time at CMU, he obtained two Master of Music degrees in Composition and Conducting, respectively, from Wayne State University, Detroit MI. His composition experience ranges from that of the art song to film scores.
As a composer, he had the pleasure of working under the instruction of Dr. James Hartway (Master of Music, MM). In his work with Dr. Hartway, he refined his technique and built upon his "American" sound mixing atonality, serialism, and tonal music. While writing his thesis work for orchestra, Remember Us, he kindled a passion for conducting and immediately began pursuit of a second MM in Conducting. In his studies, he worked with musicologist Dr. Eldonna May and Schenkerian Theorist Karl Braunschweig. As part of his work at Wayne State, he conducted the opera productions, including The Mikado by Gilbert & Sullivan.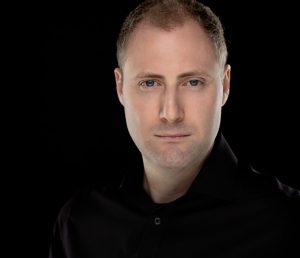 In the summer 2013, he was invited to conduct Verdi's La Traviata for Michigan Opera Theatre's community programs, receiving high acclaim. He always had a deep appreciation for opera; furthermore, this opportunity ignited a great passion and Mr. Neer has since led performances of Verdi's Rigoletto and Mozart's Cosi fan tuttein Metro-Detroit.
In early 2016, he embarked on an international conducting career, appearing with orchestras in Romania and Bulgaria. He is honored to study privately with orchestral conductor and mentor Kenneth Kiesler. In addition, Mr. Neer studied choral conducting with Dr. Norah Duncan IV, and Douglas Bianchi (winds). He has been a clinician to schools and professional organizations in metropolitan Detroit.
In addition to Oakland Choral Society, Andrew is honored to serve as the Music Director and conductor of Orchestra Sono (Bloomfield Hills MI) and the Redford Civic Symphony Orchestra. He holds Master of Music degrees in Composition and Conducting from Wayne State University, Detroit MI. He is an active member of ASCAP, The Conductors Guild, League of American Orchestras, College Orchestra Directors Association (CODA), The Society of Composers International, and alumni to Phi Mu Alpha Sinfonia. He aspires to create new music and opportunities to share music with anyone who may not normally experience orchestral and opera repertoire.